A picture from nearly 11 years ago, taken in Bath. This shows 12 of the 13 members of
UKOLN
(UK Office for Library Networking) at the time. I was the Information Officer, my first office job. Note the four shifty-looking blokes in the middle of the back row, all trying to out-cool each other and all failing badly.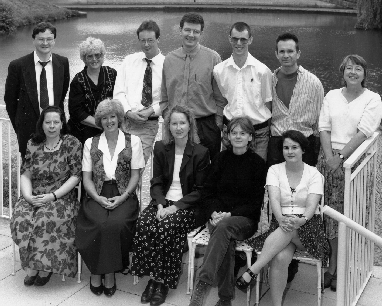 Rachel - far right, back row - left UKOLN today. That leaves 4 people in the picture (Michael, back row left and Ruth, Ali and Rosemary in the three to the left, front row), still at UKOLN, plus one more who wasn't in the picture: Ann Chapman. She writes:
"...I'm actually the longest serving member of UKOLN staff, having started work with the unit in 1987 (then CBM) when the staff was much smaller - Philip Bryant, Lorcan Dempsey, Steve Prowse, and Jo Lye."
In an odd coincidence, out of the eight who have left since that picture was taken, all except one have Facebook profiles - only Hazel, back row left but one not having one. And of the five who are left, non are (unless disguised) on Facebook.
I have a vague recollection of the event where this picture took place. It was at a hotel near the centre of Bath, as part of a restructuring or team building exercise (I lived about 5 minutes walk away). The ducks were not that interested in eating crumbs thrown at them, and had even less interest at the odd whole scone lobbed their way.
Where are they now? Mostly, still in the UK. About half are still in that area; one is in Southampton; another in Manchester; I'm in the Outer Hebrides. Lorcan ended up being the furthest moved and having the largest career rise, now being the Vice President of OCLC in the US. Looking at the picture, the reason why is finally clear - he was the only male staff member who could neatly wear a tie. That's where the rest of us went wrong...